TJ Taylor delivers English language courses for companies and professionals.
Based in Milan, Italy, we deliver in-company training throughout northern and central Italy, as well as seminars and distance courses across Europe.
Language training for your company
TJ Taylor delivers a range of corporate courses at all levels, for groups or individuals:
Trusted by over 100 companies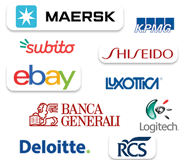 Since 2003 we have helped thousands of executives and professionals improve their English, in companies of every size and sector.
Today we deliver over 10,000 hours of training every year.
Find out why 97.4% of our clients rate us positively:
Customised courses, designed around you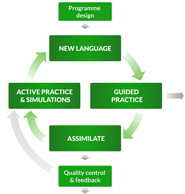 Every business is different, and so are their people's training needs.
To find the best solution for your company, first we analyse the language skills you require, and your training objectives.
We design the course around you, using our expertise and business experience to customise the course structure, objectives and content.
Professional development and personal growth
"Excellent teacher. Excellent school. Very professional. Truly useful compared to many other courses. Absolutely recommended."
Sabrina Fenoglio, Senior HR, RBC Investor Services
Your learning experience with TJ Taylor starts with an evaluation of your language skills and your goals.
During the training you're not a spectator, but playing the lead role. You, your goals and your needs are what shapes the course.
This is how your teacher designs the training programme, using their training and business experience to knit together your goals, weak&shynesses, and areas of expertise.
No pre-packaged courses, no generic methods - a course truly designed around you.
Your lessons focus on speaking, simulations and using English in the workplace, guided by a native English teacher who helps you improve your fluency and comprehension. You also benefit from their corporate experience to work on your Business English and communication skills.
"In my opinion the course was very good. The teacher was very helpful, knowledgeable...the lessons on oral comprehension and speaking were also very good."
Davide Priore, Business Analyst, Luxottica
Each lesson focuses on practical application, with simulations and real examples of language from professional life. Naturally, set in a context that is as close as possible to your work environment.
At the end of the course we assess and certify your improvement - but we don't just abandon you!
For the next twelve months you have access to an exclusive maintenance programme to consolidate and reinforce your new level of English.
Congratulations! You are now able to reach your full potential, and use English with confidence.
Questions?
Do you have a question about our English courses? Want to talk about you or your company's specific needs?
Call us on +39 02 4300 19075 or contact us by email.