"Training is a process, not an event"
The key difference between a good school and a great school is not in what they do, but in how they do it.
This includes not just customer service but the whole training process and experience. For this reason we would like to show you how we work.
Overview
First let's look at an overview of the training process, and then we'll explain each section:
Click on image to open large version and zoom
Highlights
focus on practical communication skills and simulations, with relevant content, rather than grammar or rote learning
regular reporting and clear benchmarks, with state-of-the-art needs analysis, testing and feedback systems, to keep you informed and hold us accountable
personalised course programme, to avoid wasting the participants' time and to increase motivation
maintenance programme after the course, to consolidate new skills and protect your training investment
Skip to:
Assessment &amp Start-up
The first stage for all courses is assessment, with 3 steps – a level test, questionnaire and interview.
Language assessments are also offered as a separate testing service for recruitment, independent verification, or development planning.
Test
The level test assesses practical reading comprehension, grammar and vocabulary in a business context.
The test is delivered online and is a product of thousands of hours of development and testing, and thousands of participants, and with high accuracy and usability.
It is scalable from 10s to 1000s of participants, and works on tablets and smartphones so everyone has easy access. It can also be printed and compiled later online.
"For transparency and easy comprehension the results follow the standard European CEFR and IELTS levels."
The results from the test and the interview are benchmarked according to both the standard European CEFR and IELTS levels, for transparency and easy comprehension. Learn more about the CEFR language levels (PDF).
The process includes automated tracking and follow up of test completions, so there are no time-consuming email and telephone reminders. However, a qualified and experienced teacher both checks the test results to guarantee reliable, truthful test results and co-ordinates test completions.
If you would like access to a trial test with no obligation, just contact us and we can send you the details by email.
Needs Analysis
The training needs analysis is to understand the language environment and challenges of the course participants.
Structured as a questionnaire delivered together with the test, and expanded upon during the individual interview, we look at the participants' communication activities in the workplace and in general, for example socializing or traveling.
We analyse the participants' weaknesses and strengths, their objectives, their fears (both perceived and real), and the specific communication activities and situations they are exposed to.
With input from the HR department and/or their line manager, this information forms the basis of the course programme.
The following is an example training needs analysis from a Competencies Report, with 12 participants, presented as a heatmap for easy interpretation:
Interview
The individual interview is carried out by a qualified and experienced native English trainer, normally in person but also available by telephone and videoconference.
The interview is to:
assess the level of speaking and listening comprehension
understand any specific objectives and requirements.
There is also a more personal objective, to understand the person behind the numbers, to act as a guide in the learning process, and to answer any questions or concerns.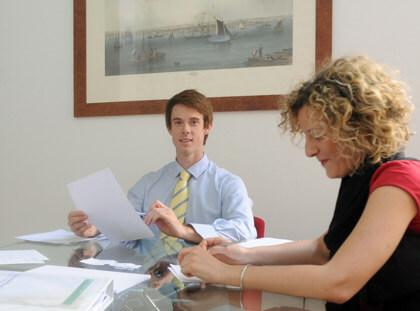 Depending on the size of the course and any scheduling guidelines from HR, the participant interviews are carried out by the teacher of the course, which substantially improves rapport, understanding and programme design.
Scheduling & Grouping
For group courses we create the groups according to the participants' levels and their business area/communication activities, as well as any availability restrictions or hierarchy considerations.
The course scheduling is organised either directly or via HR, and the participants receive a welcome email that includes a profile of their teacher, contact details and guidelines.
Programme Design
Every participant and company is different, with different abilities and communication priorities – in fact this is 1 of our 3 core principles.
Course books are generic and non-specific by necessity, both in the topics they include and exclude, and in the level of realistic content and simulations.
"To increase learner motivation and progress the course programme and content are personalised."
Instead, we personalise the programme and content for all courses, to focus the valuable course time on useful skills, practical learning and realistic situations for the participants.
This increases learner motivation and the impact of the course.
The programmes are created based on the insights gathered from the skills gap and needs analysis, plus the level information from the test and interview. The process is straight-forward for individual courses, and more nuanced and balanced for group and combination courses.
This level of personalisation requires experienced, business-savvy trainers, which is also your guarantee against improvised or inexperienced teachers.
If you would like to see some example programmes we have designed for previous clients, you can download these examples for Purchasing & Sales (PDF).
The Lessons
The initial lesson includes reviewing the programme, to get buy-in from the participants, and covers effective strategies and expectations for learning a language.
The 4 main language areas of speaking, listening, reading and writing are covered, with a strong emphasis on spoken communication. This is because speaking is normally the most underdeveloped of the 4 skills.
The lessons focus on:
practical communication skills, emphasising fluency and listening comprehension
confidence building
business skills with simulations and role-plays, including authentic or relevant content such as real emails, presentations, articles, case studies, etc.
opportunities for ad-hoc help and coaching, for example for an impromptu presentation or meeting, with the programme evolving around the participants' needs
checking participant motivation and finding techniques so that each individual can enjoy learning, which creates a powerful multiplier effect
The course programme is normally created in 2 halves, with a review and progress evaluation mid-course, so the programme can respond and evolve if needed.
The learning cycle for each topic follows a linguistic version of the Kolb cycle:
Learning starts with a presentation of the new language, which is experienced in context.
Controlled practice follows, with the opportunity to see, hear and use more examples, guided by the teacher.
The previous 2 stages lead to the new language being conceptualised and assimilated.
Finally, the majority of lesson time is given to active experimentation, with simulations, conversation and error correction, to consolidate the new language and build confidence and familiarity.
This basic learning cycle is common to all language methods developed over the years. To learn more about the various methodologies for languages, visit our guide to teaching methods.
Quality Control
Quality control involves 2 processes – an internal process which includes teacher observations, development and ISO9001 procedures, and an external process based on participant and client feedback.
Within the first month we collect feedback for all individual and group courses.
Then, based on the duration of the course, the participants of all medium- and long-duration courses receive an automated feedback questionnaire at the middle and at the end of the course, while participants of short courses receive the questionnaire at the end.
Feedback is both qualitative and quantitative, using a form of Net Promoter Score. This data is tracked over the long term to improve our processes and is also shared transparently and completely with the client.
Final and Progress Testing
Assessment is key to motivation and accountability. We carry out 2 types of testing:
progress testing (formative)
level testing (summative)
For shorter courses, with a duration shorter than the time needed to progress by 1 standard level, or for courses that focus on a specific and narrow skill, we carry out progress testing.
"Assessment keeps the course focussed, motivates the participants, and provides transparent outcomes."
This is because these courses logically can not be reliably assessed according to a standard scale. Instead, the assessment keeps the course focussed, motivates the participants, and provides transparent outcomes.
For longer courses of over 45 hours we repeat the level test (explained in the opening section above), with complete and transparent reporting of the participants' progress in speaking, listening comprehension, syntax, reading comprehension and vocabulary.
Participant Report and Certificate
At the end of the course, and for longer courses also at mid-course, every participant receives a detailed and clear report with teacher feedback and performance data.
They also receive a signed, traceable completion certificate with their final level or results.
Maintaining Progress & Performance Support
After a course it is vitally important that the participants use English regularly, to maintain and consolidate their progress.
Learning English is similar to going to the gym – regular exercise is essential.
However, not all participants have this opportunity, and research shows us that without practice most of your training investment will inevitably be wasted.
To avoid this, all of our participants receive a maintenance course for 12 months after their course, with a regular series of bite-size exercises for both Business and General English and useful resources for performance support.
This service is exclusive to TJ Taylor and is included with all our corporate and full immersion courses, but of course can be opted out of at any time.
This maintenance is key to maximising the long-term performance of the course participants, increasing the return on your training investment, and ensuring that the course provides durable benefits and results.
HR Reporting
We understand that the success of our courses contribute to your success and reputation.
For this reason we provide complete and timely reporting at every stage, from the course design, lesson delivery and participation, to final evaluations, certification and feedback.
Competencies Report
Following the test, questionnaire and interview, you will receive a complete report with explanations of:
level of each participant's speaking, listening comprehension, syntax, vocabulary and reading comprehension skills, as well as their average overall level
skills gap overview of each participant based on 2 competency benchmarks: sufficient and professional
analysis of each participant's business communication skill gaps, covering the 14 most common workplace scenarios
insight into communication strengths and problems at department, group or company level
We use both the standard European CEFR and IELTS levels, for transparency and easy comprehension. Learn more about the CEFR language levels (PDF).
The course programmes are also shared with HR and the participants' line managers.
Progress Updates
This report highlights any issues or alerts quickly and clearly, as well as reporting on course progress and timing.
You will receive a regular monthly dashboard, which includes the main participation and performance data, as well as an analysis of trends at the course and individual level.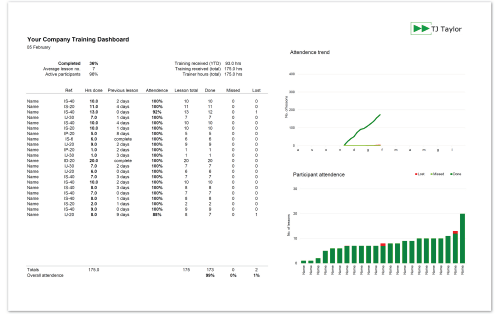 Course Report & Certificates
"You will know exactly each person's ability to work in English."
At the end of the course, and for longer courses also at the middle, you will receive a detailed and clear report that includes course and individual performance data, trends, test results, and all Individual Reports with teacher analysis and feedback.
You will also receive a digital copy of the participants' completion certificates, with the option of receiving a paper copy to distribute internally or to present at an event.
As policy we share a complete copy of all satisfaction questionnaire results. With automated follow ups and reminders, and a responsive design that works on tablets and smartphones, our questionnaire response rate is a very respectable 65-80%.
Line Manager Support
We encourage the participants' line managers to take a direct interest in the training and become involved, if culturally or politically appropriate.
The influence of line managers on the success of a course is often overlooked. The first step to improve manager buy-in for training is to assess - learn how to evaluate management support.
This improves the application of the new learning to the participants' work, increases the perceived value of training, and also helps with attendance and motivation.
At a basic level we include the participants' line managers in the reporting process, with optional departmental monthly and end-course reports.
For more involved line managers, we ask for their input during the programme design and provide tips mid-course on how to encourage their reports to apply what they have learnt.
If you have any questions, or would like to learn more, we are available by telephone at +39 02 4300 19075 or by email.