Get our Free Corporate Training Newsletter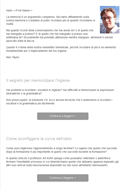 Keep up-to-date with the latest resources, articles and news from the world of languages and corporate training, with a specific focus on Europe and Italy.
Subscribe Now
We respect your privacy, and you can unsubscribe at any time. We have a strict no-spam policy and your details will never be distributed - our privacy policy.
* required
You will receive an important confirmation email in a few seconds - if you haven't received this email, even in your junk folder, please contact us and let us know.
Unsubscribe
Please enter the email address you subscribed with and your details will be completely deleted.
Follow TJ Taylor on LinkedIn for the latest news, the inside track on recruitment, and lots of language and learning tips:
Come and join us on a Twitter, where we focus on training and the English language:
We're less active on Facebook, though we occasionally post some language and learning tips on our Facebook page.
Or you can also find us on Google+.