We offer talented teachers the opportunity to become a partner in our firm.
TJ Taylor is one of the few language training companies that is structured as a partnership rather than as a corporation. Our assets truly are our people and our firm reflects that in its structure and in the prospects for career growth that we offer our teachers and trainers.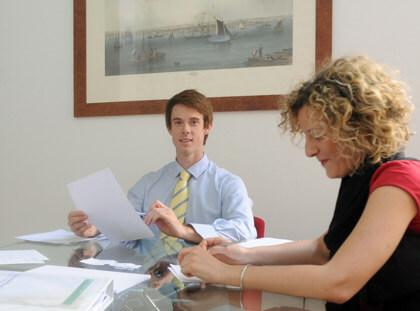 Personal and Business Development
If you are a professional language teacher with at least 5-10 years' experience, with a well developed understanding of marketing and sales, a successful track record in both teaching and building client relationships in Italy, and share our 3 core principles, we would like to hear from you.
Working in a partnership means you're able to develop your role, your skills, and expand your client portfolio, balancing your teaching commitments with time for developing relationships and marketing, or maybe even focussing more on skills training and consultancy.
This can be difficult to achieve on your own without stretching your time too thin or disappointing your existing clients and students, as well as dealing with the inevitable administration and bureaucracy - that is, unless you work together in a team.
We provide the resources, infrastructure, brand recognition and support to help you flourish and achieve your full potential. Why not contact us for a chat and ask for Alex Taylor.
Early Potential
"All our teachers have the opportunity to make partner, if they have talent and determination."
If you are at an earlier stage in your teaching career but feel you have the talent and skills to make partner, we'd like to encourage to apply for a teaching position.
All of our teachers have the opportunity to develop their talents through managing courses, then managing accounts, and finally, with developing new business and client relationships in Milan.
After 1-3 years with us, and depending on experience and your career objectives, high potential teachers are supported with training and mentoring and have the opportunity to take on an account management role, which then leads to partnership.
First and foremost, however, we must be great teachers with a passion for languages and learning, so we'd invite you to start on the path towards partnership by checking out our page on teaching careers.